Advertising Disclosure

?
X
Advertising Disclosure
FTC Disclosure
As the owner/sponsor of this e-commerce website, we have the full intention to be compliant with the Federal Trade Commission (FTC) rules about the use of testimonials, endorsements, and overall content in advertising and marketing. Accordingly, we want you as a visitor to understand the instances we get paid to sell all products or services on this site.
Content
The content that appears on this page is presented as a nominative use product overview. The provided information includes product information, overviews, buying guides, and product specifications. All trademarks, registered trademarks and service-marks mentioned on this site are the property of their respective owners. If any content is factually inaccurate please contact us and let us know so that we can address it appropriately. By contributing your product facts helps to better serve our readers and the accuracy of the content.
Our Top Selections Box - Promotional Sales
The table below identified "Our Top Products" does not include all companies or all available products in the market but those that we promote as the owner of and/or resellers of all products listed within it. In full compliance with the FTC guidelines, please assume that any and all links on the table are sales links, and we receive compensation if you click one of these and make a purchase through our website. We are independently owned and the opinions expressed here are our own. All editorial content is written without prejudice or bias, regardless of product sponsor associations.
Cellmaxa – The Overview
Women of all ages, shapes and sizes will, at some point, experience cellulite on their body. Whether it appears on the most common areas – the hips, thighs and buttocks – or other places such as the upper arms or stomach, it is not only distressing, but can be extremely hard to eliminate. There are seemingly endless products and treatments that all claim to get rid of cellulite for good; sadly, in addition to being expensive and time-consuming, many of these methods simply fail to produce results. Cellmaxa by Solvaderm is different – with its dual-action formula that contains patented, clinically proven complexes, it not only reduces the look of dimpled, pitted skin affected by cellulite but improves its overall condition, making it appear smooth, evenly-textured and healthy.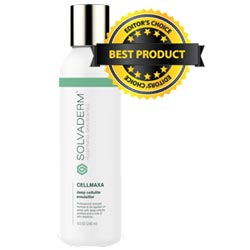 Cellmaxa – Key Product Benefits
Helps to sculpt the skin for an overall firmer, more toned appearance
Reduces fat deposits under the skin surface to minimize cellulite dimples
Conditions and smooths the skin using intense moisturizing ingredients
Protects the skin from damaging environmental stressors
Prevents the accumulation of new fat deposits in the skin
Cellmaxa – Key Ingredients
The Cellmaxa formula is a blend of four key active ingredients that each play a vital role in the reduction of cellulite. While each one has powerful properties of its own, they work best when combined in this synergistic formula, absorbing quickly into the skin to start working straight away on the most stubborn areas of cellulite. Cellmaxa provides superior benefits for cellulite-ridden skin through the inclusion of the following ingredients:
Adiposlim – Designed to work at an optimal level with Adipoless, this substance has shown to have superior benefits for cellulite, working to stimulate the skin, encouraging the release of fat while simultaneously inhibiting further fat storage. The natural ingredient has been scientifically proven to reduce the appearance of cellulite and improve skin smoothness.
Adipoless – The second potent complex in the Cellmaxa formula, this quinoa-derived ingredient complements the effects of Adiposlim to further diminish the appearance of cellulite and prevent future occurrences. By reducing the size of the bulging fat deposits responsible for the bumpy look of cellulite, skin appears smoother and more evenly textured.
Hyaluronic Acid – A staple ingredient of all high-quality, effective anti-aging treatments, Hyaluronic Acid has amazing hydrating properties for parched skin. With its ability to attract and retain moisture molecules from the air, Hyaluronic Acid plumps the skin, smoothing out the surface so that cellulite dimples are less noticeable. Its potent hydrating properties fight dryness, giving the skin a dewier, healthier appearance.
Squalane – Derived from olives, this natural moisturizer has superior skin-softening properties. Non-greasy and readily absorbed, Squalane is particularly effective when paired with Hyaluronic Acid, helping to boost its effects for the ultimate moisturizing benefits. As a popular anti-aging ingredient, Squalane is said to support better circulation and promote collagen synthesis while also acting as a powerful anti-inflammatory.
The anti-cellulite effects of all the ingredients contained in Cellmaxa can be further enhanced when gently massaged into freshly cleansed skin using circular motions, stimulating blood flow and encouraging the breakdown of stubborn fat cells.
Safety Profile of Cellmaxa
Safety is a number one priority for Solvaderm, which is why they put all their formulas through a series of stringent tests that adhere to all government regulations. Consumers need to know that what they're putting on their skin is 100% safe, unlikely to cause irritation and presents no long-term health risks. Each ingredient contained in the Cellmaxa formula is listed on the product website for full transparency, allowing customers to see exactly how it works. Because Cellmaxa, like all Solvaderm formulas, contains no harsh irritants or common allergens, it can be used by people of all skin types, including the most sensitive. Customers can be sure that Cellmaxa:
Is made without the use of sulfates, fragrances or parabens
Has been tested for suitability and safety on all skin types
Has undergone skin patch testing on consumers
Can be applied twice daily without causing redness or irritation
Cellmaxa – Manufacturer's Benefits
When you buy a Solvaderm product, you know you're getting a quality treatment, developed by top dermatologists and clinically proven to be effective. However, with so many skincare brands on the market, Solvaderm goes to great lengths to ensure that all their products stand out above the rest; by adhering to strict government regulations and being environmentally aware, all Solvaderm products are:
Produced in a US-based facility that follows Good Manufacturing Practices (GMP) guidelines
Sold in Bisphenol-A (BPA)-free packaging
Manufactured using professional strength, pharmaceutical grade ingredients
Never tested on animals
Formulated with USDA certified organic substances
Cellmaxa – The Bottom Line
While Cellmaxa is obviously the best choice for reducing the unsightly appearance of cellulite, what makes this treatment truly remarkable is its ability to prevent further cellulite from forming. Instead of just working superficially for short-term results, it penetrates deep below the surface, inhibiting fat accumulation for long-lasting, dimple-free, smooth skin. With its moisturizing conditioners and skin-sculpting benefits, Cellmaxa seems to be a firm favorite among Solvaderm customers who can show off their bare skin with confidence, never having to worry again about the embarrassing 'orange peel' appearance of cellulite-ridden skin.
Where To Buy Cellmaxa?
Best Deals and Pricing Available at Solvaderm.com
Use code REV10 to get 10% OFF for single Cellmaxa bottle on Solvaderm.com